Poison Maps

The Ultimate Maps App
Poison Maps has plenty of configuration options to enable you to tailor the app exactly as you wish. The Settings are separated into 2 screens: the standard Settings screen with the options that you are likely to need most often; and the Advanced Settings screen for less frequently used and sometimes quite complex settings.
The first option on the main Settings screen is the ability to change the background map, which can be the Default, Photo, Hybrid, and Compass, which is effectively no map at all and only shows signs. There are plenty of examples of standard and compass modes elsewhere on this site, so we only show examples of the photo and hybrid modes below.
The next option on the Settings screen allows you to create a new POI. This involves simply tapping the option to create a new POI at your current location. You can then edit it to change the name, icon and location. The icons can be chosen from a palette on a toolbar at the bottom of the screen, as shown in the screenshot below.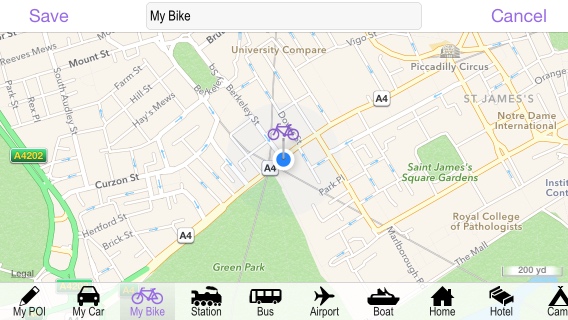 The next section allows you to display toolbars to configure the signs and points. These bars are displayed below the map so that you can see the effect of changes that you make in real-time. See the Signs page for examples of these toolbars.
The section after that allows you to configure country filters and also to prioritize your favourites for any category. The country filters enable you to restrict all signs, points and search results to the country or countries of your choice.
The favorites screens allow you to control the order in which the categories and brands are shown on the bottom toolbar. You can order them by default (usually alphabetically); by the number of POIs (i.e. by popularity); or customize them to match your exact preferences. You can also make it so that types with POIs in the current country are shown first.
The Advanced Settings screen is for the more adventurous, with dozens more useful and fun configuration settings. We won't go into the details here, but if you like playing with app settings then you will love this screen!
If you have any questions on any of the settings, or indeed on anything to do with Poison Maps, then please contact us at the email address below.